KREEMO and TMYTEK Develops a mmWave 5G Development Kit which offers Industry First 360o Beamsteering Coverage
POSTED ON MAY 19, 2021 BY KREEMO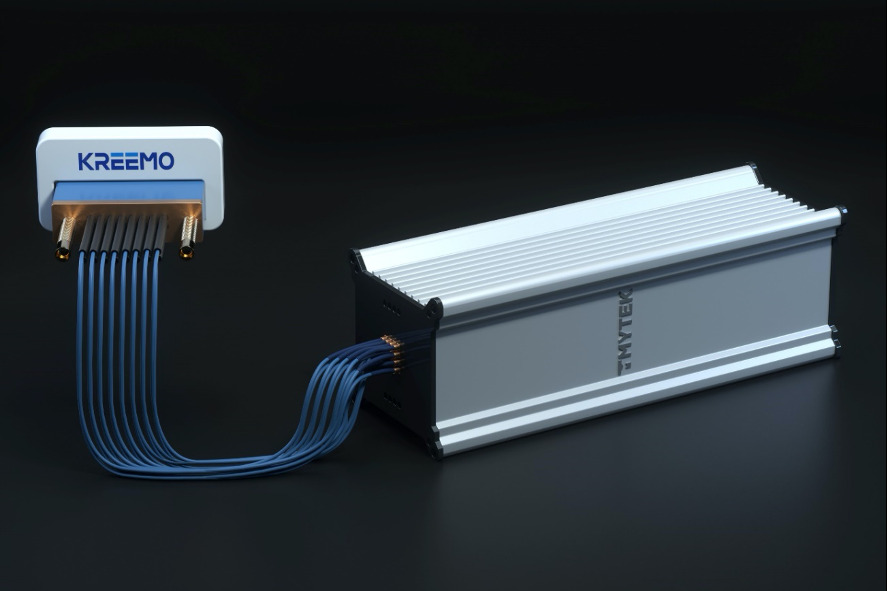 KREEMO and TMYTEK have successfully developed industry first compact mmWave 5G Development Kit which features complete 360º beamsteering capability. Using KREEMO's planar antenna featuring spherical beamsteering coverage and TMYTEK's BBox, 5G R&D partners can now easily and rapidly develop and test various mmWave 5G products and services
The mmWave 5G Development Tool developed by the two companies will be the most suitable tool kit for readily confirming beam coverage quality and developing competitive 5G products (data devices, AR/VR, CPE, Small Cell, etc.). 5G devices and 5G infrastructure products developed with this tool will feature a competitive edge by providing seamless connection to users with industry first 360º beam coverage. This is also expected to lead to cost reductions in 5G infrastructure capital expenditures (CAPEX) and operating expenditures (OPEX) for mobile operators.
KREEMO's mmWave 5G stackable patch antenna consists of two antennas stacked at the top and bottom. And it offers the world's first 360º coverage, radiation in 6 direction, as well as dual-polarization.
TMYTEK's BBox (Beamformer Box) is a 28 & 39 GHz mmWave beamformer. The detachable antenna is the key feature for mmWave antenna researchers: they are able to design various antennas with different optimized bands, materials, stack-up, and other parameters, but use the same beamformer circuit to verify the beamformer characteristics of phased array antennas.
A well-designed GUI allows you to control the phase and amplitude of each channel independently, antenna designers will be able to conduct beamforming according to their designs.
For algorithm developers, they can use BBox to validate their algorithm thanks to BBox's API which is compatible with programming languages: LabVIEW, Matlab, Python, C#, C++ and others. With KREEMO's planar antenna, it allows all the algorithm developers to have wider beam scanning range up to 360º.
According to a report by Allied Market Research, the 5G market is expected to grow from US$5.5 billion in 2020 to US$66.8 billion in 2026, a 120-times increase. Such a sharp growth in the 5G industry comes from not only entry into the telecommunications market, as seen with the previous 4G technology, but also the self-driving car, smart manufacturing, digital healthcare, smart energy, smart city, smart home, and smart office markets, which may change all the areas of our lives significantly. The industry expects 2021 to be the first year of preparation for entry into such markets.
KREEMO (www.kreemo.io) has developed the world's first mmWave 5G Stackable Patch Antenna with 360º coverage. In addition, KREEMO also develops and supplies AoD (Antenna-on-Display) for smartphones and wearables along with various other products. KREEMO is a startup based in Korea.
TMYTEK (www.tmytek.com) is the world's leading 5G beamforming solutions supplier that not only designs mmWave RF front ends and systems, but also develops beamforming software. Besides the BBox, the mmWave 5G beamforming development kit, TMYTEK develops and supplies UP/DN converters, PLLs (Phased Lock Loop), Baluns, and other various mmWave products. TMYTEK is based in Taiwan. Comtel Technology is the official distributor in Korea.