TMYTEK and Celanese Showcase Innovative Ultra-Low SWaP ESA Solution with Antenna-on-Chip (AoC) at Satellite 2023
POSTED ON MARCH 15, 2023 BY TMYTEK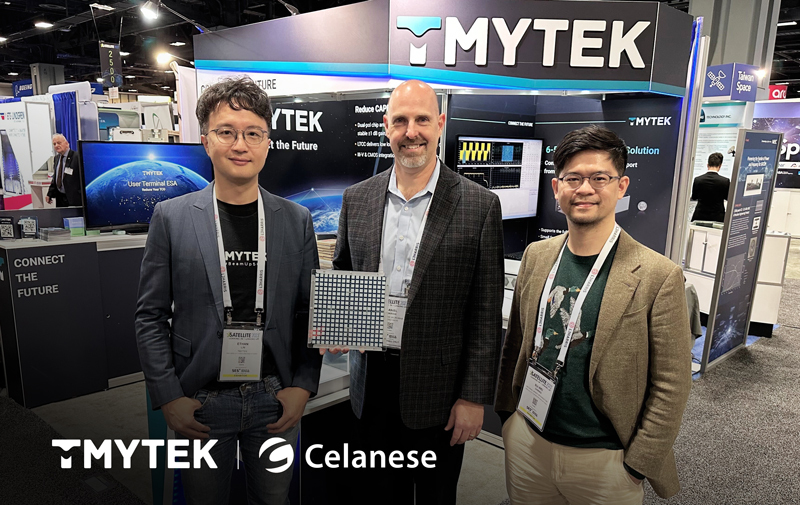 Caption: Su-Wei Chang, Founder and President of TMYTEK, and Ethan Lin, Co-founder and Vice President of TMYTEK, Daniel Barish, Global Strategy and West Commercial Leader, Celanese Micromax® Electronic Inks and Pastes, unveil the ultra-low SWaP ESA solution with Antenna-on-Chip (AoC) at Satellite 2023.
TMY Technology Inc. (TMYTEK), a leading provider of millimeter-wave solutions, has partnered with Celanese, a global chemical and specialty materials company, to present their new dual-polarization Antenna-on-Chip (AoC) technology made with Micromax® (formerly DuPont MCM) GreenTape™ low-temperature co-fired ceramic (LTCC) at the Satellite 2023 exhibition in Washington D.C. TMYTEK will be showcasing their technology at two booths: one located within the Taiwan Space (booth #2553) and another at booth #2754.
According to data from the US Satellite Industry Association (SIA) and TrendForce, the economic output of the global space industry was approximately $386.4 billion in 2021, with a compound annual growth rate (CAGR) of 5.1%, projected to exceed $1 trillion by 2040. In 2021, the satellite industry's output was about $282.8 billion, accounting for 73.26% of the entire space industry. It is estimated that by 2023, the global satellite industry's output value can reach $308.3 billion and will increase to $370.6 billion by 2030.
TMYTEK has established itself as a pioneer in millimeter-wave solutions for 5G/B5G and satellite communication applications. With a focus on innovation, the company has developed a range of cutting-edge products and solutions, including ready-to-use beamforming development kits, Antenna-in-Package (AiP) technology, and redefined over-the-air (OTA) testing methodologies. These innovations have enabled TMYTEK to empower industrial inventions to market faster.
TMYTEK's new dual-polarization Antenna-on-Chip (AoC) boasts a wide bandwidth of 22%, stable ±1 dB gain, and symmetrical radiation, providing a low-loss, high-reliability, and durable solution, resulting in a performance increase of 5%-10%. The Micromax® GreenTape™ LTCC material, which is supplied by Celanese, enables the production of compact, high-performance antennas suitable for use in satellite communications, automotive, and other industries.
"We are excited to showcase our innovative ESA solution at Satellite 2023 with Celanese," said Su-Wei Chang, Founder and President of TMYTEK. "Through our partnership with Celanese, we have been able to leverage their expertise in advanced materials to develop a low-loss and high-reliability electronic substrate for our Antenna-on-Chip (AoC). TMYTEK's dual-polarization Antenna-on-Chip (AoC) is made using Micromax® GreenTape™ LTCC technology, which offers several advantages over traditional substrates. LTCC provides high thermal stability, excellent electrical performance, and the ability to integrate multiple passive components in a single package. These benefits enable our Antenna-on-Chip (AoC) to deliver high effective isotropic radiated power (EIRP) and ultra-low size, weight, and power (SWaP)."
"Our dual-polarization Antenna-on-Chip (AoC) demonstrates our leadership in the mmWave technology space and our commitment to providing reliable, high-performance solutions to our customers," Chang continued. "We have been working closely with our customers to ensure that our solutions meet their needs, and we are confident that our technology will continue to drive innovation and growth in the 5G/B5G and satellite communication industries."
Ethan Lin, Co-founder and VP of TMYTEK, expressed his excitement about the new technology, saying "Our goal is to simplify and streamline the deployment of satellite communication systems. Our ESA solution and RF Testing Solution do just that, reducing capital expenditures (CAPEX), operating expenditures (OPEX), and total cost of ownership (TCO) for our customers." By offering high-performance solutions at a reduced cost, TMYTEK is well-positioned to capitalize on the growing demand for Satcom solutions in the coming years.
"We're delighted to supply Micromax® Greentape™ 9KC LTCC material, winner of the 2022 R&D 100 Award, to TMYTEK's latest antenna module." said Daniel Barish, Global Strategy and West Commercial Leader, Celanese Micromax® Electronic Inks and Pastes "Collaborations with TMYTEK not only enable more flexible mmWave design and testing solutions, but also demonstrate our commitment to advancing innovations to address customer challenges since joining Celanese Engineered Materials."
Download Ku-Band SATCOM Antenna for In-Flight Connectivity Flyer
Download Compact 6-53 GHz Frequency Extender Flyer